Gold Beats Brown 14-13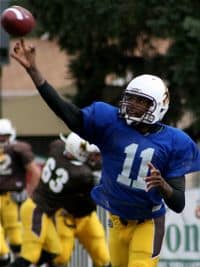 It went down to the wire on Saturday when the Wyoming Cowboys held their annual Brown and Gold Game in War Memorial Stadium. The Brown Team pulled to within one point at 13-14 with 30 seconds remaining in the game on a four-yard touchdown run by running back Brandon Miller. The Brown Team decided to attempt a two-point conversion to win the game, but defensive tackle Riley Lange sacked quarterback Emory Miller, preserving the one-point victory for the Gold Team.
The game kicked off at 2 p.m. and appeared it would be an offensive showcase as both teams scored on their first possessions of the day.
The Gold Team was led by true freshman quarterback Brett Smith, who completed 66.7 percent of his passes (16 of 24) on the day for 153 yards and threw one interception. Smith also rushed for 22 yards on nine carries, including a three-yard TD run on the Gold Team's first possession. Smith's three-yard touchdown concluded a 12-play, 70-yard drive. Senior place-kicker/linebacker Oliver Schober added the extra point to give Gold a 7-0 lead.
Redshirt freshman quarterback Emory Miller guided the Brown offense. He completed 50 percent of his passes (9 of 18) for 86 yards, threw one touchdown pass and two interceptions. His one TD pass came on the Brown Team's first possession when he hit senior wide receiver Mazi Ogbonna on a 36-yard TD, capping off an eight-play, 70-yard drive. Redshirt freshman place-kicker Stuart Williams added the point-after-touchdown to tie the game at 7-7.
Following those two initial scores by each offense, the two defenses proceeded to take over the game. Neither team would score or even have a serious scoring opportunity the remainder of the first half.
To begin the second half, junior cornerback James Caraway of the Gold Team intercepted Miller. With Gold taking over at its own 27-yard line the Brown defense then forced a three-and-out series and Gold was forced to punt. The next two possessions saw each quarterback throw an interception. Miller was intercepted for the second time, this one was picked off by senior free safety Eric Mitchell of the Gold Team. Linebacker Alex Borgs of the Brown defense returned the favor four plays later, intercepting Smith for the first time on the day.
Following a punt by the Brown Team, Smith guided his Gold offense on a nine-play, 64-yard drive culminating in a 12-yard touchdown run by Brandon Miller with 8:50 remaining in the fourth quarter. Schober converted his second PAT of the day to give Gold a 14-7 lead.
Neither team could move the ball on its next possessions, both being held to three-and-out series and forced to punt. With only one possession left in the game, Emory Miller led his Brown squad on a 13-play, 59-yard drive to pull the game to within one point. On that drive, Miller made a series of important plays. He hit junior wide receiver Chris McNeill on an 11-yard pass to begin the drive. Emory Miller also came through with a critical third-down conversion when he connected with Brandon Miller on a nine-yard pass to take the ball from the defense's 31-yard line to the 22-yard line. Six plays later, Brandon Miller ran it into the end zone from four-yards out for the Brown Team to conclude the scoring at 14-13 in favor of Gold.
Head coach Dave Christensen was pleased with his team's performance on a day that started out mild but ended in rain.
"I thought there were a number of positive things in a lot of different areas," said Christensen. "Offensively, I thought we did a good job of executing the offense. The quarterbacks, for the most part, made good decisions with the ball. They put a couple up there that we would like to take back, but for the most part I thought they ran the offense well."
Asked if the rain played a part in the three interceptions thrown, the head coach didn't believe the weather was a major factor.
"I don't think the weather had much to do with those," said Christensen. "You have to make good decisions and go through your progressions in reading the defense. If a play isn't there, you have to pull the ball down and run it. When you have young quarterbacks, they want to make big plays and make things happen, but we can coach them through that. They've both done a pretty good job all throughout spring of making decisions."
Helping out the performance of both quarterbacks were outstanding days by several different receivers. Sophomore wide receiver Robert Herron had the most impressive day of all the receivers. Playing for the Gold Team, Herron caught five passes for 76 yards, including a long of 20 yards. He made a number of difficult catches and also had another reception called back due to an ineligible receiver penalty against his team.
"Robert (Herron) possesses great speed and athleticism, and we know he's got great play-making ability," said Christensen. "He's had some drops throughout spring ball, but today he made some great catches. He catches balls better when they're tough catches than when he's wide open. He definitely rose to the occasion today, and he'll be a factor for us in the fall."
Other receivers who had good days were senior Jonathan Aiken, who had a game high six receptions and 48 yards receiving for the Gold Team. Also for the Gold Team, redshirt freshman C.J. Morgan caught three passes for 21 yards and senior DeJay Lester had two catches for eight yards.
Brown's receiving unit was led by junior Chris McNeill, who pulled down four receptions for 25 yards. Sophomore tight end Spencer Bruce caught three balls for 16 yards, and senior Ogbonna's one catch came on the 36-yard TD pass for the Brown Team's first score.
"I was pleased with the way we caught the football today," said Christensen. "We caught it much better than we had all spring. Even with the rain, the guys did a good job of hanging onto the football."
Due to a number of running backs missing Saturday's game, three running backs played for both the Brown and Gold Teams. Those three individuals were: Brandon Miller, Tedder Easton and Vincent Bobbitt. Miller finished the day with a combined 13 carries for 52 yards rushing and two TD runs - one of 12 yards for the Gold Team and one of four yards for the Brown Team. Easton combined for a total of nine carries for 35 yards, and Bobbitt carried the ball two times for six total yards.
The Cowboy defense was impressive again on Saturday -- as it has been all during spring practice. The Gold defense allowed only 153 yards of total offense and eight first downs on 38 offensive plays to the Brown offense -- 86 passing yards and 67 rushing yards. That averaged out to only 4.0 yards per play. The defensive leaders for the Gold Team were: senior linebacker Brian Hendricks (8 tackles), redshirt freshman defensive tackle Lange (6 tackles, 1.0 sack), junior linebacker Patrick Hartford (5 tackles), senior free safety Mitchell (2 tackles, 1 interception) and junior cornerback Caraway (2 tackles, 1 interception).
The Brown defense was nearly as stingy, giving up only 212 yards of total offense and 12 first downs on 46 offensive plays to the Gold offense -- 153 passing and only 59 rushing -- for an average of 4.6 yards per play. Top performers on the Brown defense were: freshman linebacker Alex Borgs (8 tackles, 1 interception), sophomore linebacker Todd Knight (8 tackles), junior strong safety Luke Anderson (7 tackles) and senior defensive end Gabe Knapton (5 tackles, 1.0 sack).
"Defensively, our team speed showed itself today," Christensen said. "I guess you couldn't ask for much more than a 14-13 ball game from a defensive standpoint."
When asked if by drafting teams, rather than have the offense face the defense as was done in the first two spring scrimmages, it provided his coaching staff a better evaluation tool Christensen said. "We really get the same quality evaluation either way. When you evaluate scrimmages, you're looking for how individual players execute assignments and perfect techniques. You're analyzing each player individually on each play no matter what the format of the scrimmage is."
Christensen said he was encouraged with the overall progress his team made during its 15 spring practices that concluded on Saturday.
"Offensively, I think we're definitely going in the direction I envisioned us going," said the third-year head coach. "We're starting to get the personnel we need to run this offense like we've wanted to since I've been here. This offense is difficult to run if you don't have the personnel in place to fit it. I believe we're a lot further ahead than any time since I've been here.
"Our defense -- I'm really pleased with where they're at. I think we'll probably have 20 kids who will contribute for us in different personnel sets next year on defense. We're as deep as we've been there, and that should allow us to rotate guys a lot and keep our personnel fresh."
He said his coaching staff's final evaluation of the Spring Game would be made early next week and then his staff would put together an updated depth chart mid-week. But he emphasized that the depth chart to end spring practice would likely change several times once fall camp begins in early August, and competition at every position would continue.
"We'll grade the film Monday and decide where we think most guys will fit heading into fall camp," added Christensen. "We of course have a lot of practices in fall camp, so to answer the question that is going to come up -- `who is going to be announced as the starting quarterback' -- no one will be announced as the starting quarterback until probably the week before the first game.
"We want the competition to continue. Both (quarterbacks) are playing well, and we have another young man coming in who I think will compete also. I can't wait to get all of these young men back after summer training. We had about 15 guys miss this spring because of injuries who I think will contribute, and we have a number of young players coming in. When we get the whole team together in the fall, I believe from a depth standpoint and a speed standpoint we're going to be further along than we have since I've been here."
At halftime of Saturday's Brown and Gold Game, some special awards were presented by the Cowboy coaching staff to several individual players. A "Most Improved Player" was named at each position group for their performance during spring practice. Those awards went to:
Brandon Miller, Most Improved Offensive Back
Kyle Magnuson, Most Improved Offensive Lineman
Sam Stratton, Most Improved Receiver
Kenny Browder, Most Improved Defensive Back
Riley Lange, Most Improved Defensive Lineman
Korey Jones, Most Improved Linebacker
A new award was also presented this year to two offensive and two defensive players who were recognized for putting forth extra time and effort. This new award was named the "Earn Your Spurs Award". The two offensive winners were: senior offensive guard Brandon Self and redshirt freshman tight end Shane Sullivan. On defense the winners were: sophomore defensive tackle Patrick Mertens and freshman linebacker Mark Nzeocha